Free Medical Campaign at the Initiative of VASHA Foundation.
Published: 5 Feb, 2022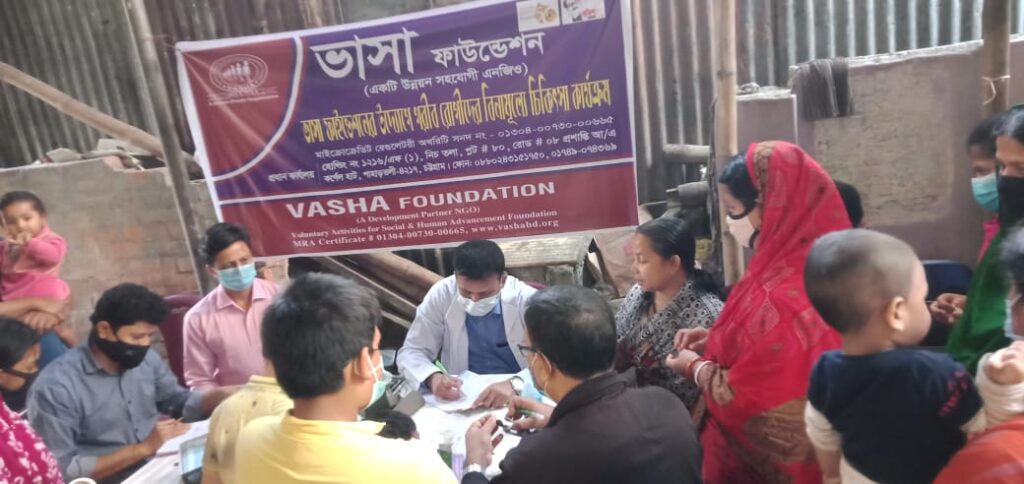 The Voluntary Activities for Social and Human Advancement Foundation (VASHA Foundation), a non-governmental development organization (NGO) in Chittagong, conducted free medical campaign among the poor and destitute people in Kazir Dewri Kazipara and Dhopapara areas on Friday, February 4.
The treatment activities were conducted under the leadership of Dr. Anupam Majumder, Assistant Registrar and Specialist Physician, Government 250 beds Noakhali Sadar Hospital. Hundreds of disadvantaged women, children and men are given free treatment in this program.
At the beginning of the treatment service, Parimal Kanti Paul, the Chief Executive Officer of the VASHA Foundation, spoke on how to prevent corona in the event of its epidemic. He added that the Free Medical treatment is one of the on going activities of VASHA Foundation.
The organization runs free medical camps for poor and needy patients in various poverty stricken areas. Executive members of VASA Foundation Md. Emran Hossain, Officer Mithun Das, Md. Manik, Md. Rezaul Karim, Pranjal Saha among others were present in this voluntary program.